Disclosure: The Review Wire may have been provided with product for this review. All views and opinions with regard to the products or the company are my own and were not influenced by the company. Some posts may contain affiliate links.
100 Perfect Pairings: Main Dishes to Enjoy with Wines You Love By Jill Silverman Hough helps you prepare main dishes that will perfectly complement the wines of your choice. An ideal resource for both casual dinners and special occasions, this handy book presents 100 main dish recipes that pair deliciously with favorites like Chardonnay (Roast Chicken with Potatoes) and Merlot (Mixed Mushroom Pappardelle). Organized into 12 chapters (six for white, six for red) and illustrated with 40 lush color photos, 100 Perfect Pairings makes it easy to match a variety of main dishes with your favorite wines.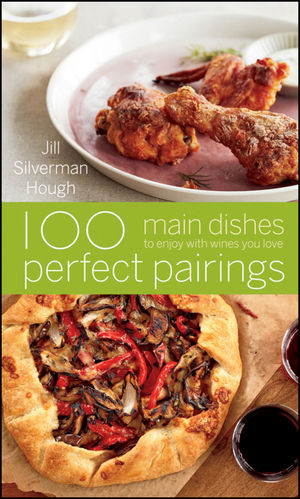 I've said it before and I'll say it again now: writing and publishing a successful cookbook is not an easy task as the market is saturated with tens of thousands of cookbooks and it seems a new one arrives every hour of the day.
But let me say right now that '100 Perfect Pairings' is a good cookbook; it is well thought out and the recipes are well detailed and if you read them through and follow them the end result is very delicious.
This cookbook is all about pairing wines with foods, but I discovered that even if you forget about pairing the wines, the recipes are very, very good. They range from up-scale sandwichices to full blown entree's. Colorful illustrations make you want to rush into the kitchen and get working.
'Hosin Pork Tenderloin with Asian Salad' is an excellent recipe with a very nice photograph of the finished dish, mouth watering enough that I wanted to prepare it for lunch, not wanting to wait for dinner. The 'onion and apple tart' is a must! Once again the accompanying photograph makes your mouth water and your soul long for it and although at first blush the recipe looks somewhat complicated it is very detailed and it works out very well, easy to do, producing a final product worthy of a five start rating!
'Pork Loin Roast with dried cranberry Stuffing' is also a mouth watering, certain to please entrée; while appearing somewhat complicated it is easy to prepare if you read through the instructions on how to prepare the loin before you begin. Having a good, very sharp knife is a must for this recipe.
This cookbook is good for experienced as well as beginning cooks as the recipes are so well thought out and detailed. And if you like wines, you'll discover the suggested pairings are also very well thought out and make great companions for the recipes. The author obviously knows her wines and is an accomplished cook; the fact that she took the time to make the recipes easy to follow and easy to transform into appealing, delicious food that every cook will be pleased to offer is a genuine accomplishment.
'100 Perfect Pairings" definitely belongs in your kitchen or on the shelf next to your other cookbooks. It's a real keeper, one you'll turn to again and again.
Buy It: You can pick up your own copy at Wiley
GIVEAWAY! CLOSED
THIS GIVEAWAY OS NOW CLOSED – WINNERS #39 MARY J AND # 44 ERIN – I SENT YOU AN EMAIL!
2 winner's will each receive a copy of 100 Perfect Pairings, (RV $16.95)!
To Enter: Visit Wiley and let me know what other cookbook looks like something you would enjoy
Thank You Wiley for this great giveaway!
Extra Entries: These are to be completed only after initial entry. All entrants that do not do the initial entry will be disqualified. Please leave a separate comment for each extra entry.
- LEAVE A COMMENT ON ANOTHER, NON-GIVEAWAY POST AND COME BACK TO TELL ME WHERE YOU COMMENTED
- Follow CintiCoupons on Twitter
- Tweet about this giveaway by copying and pasting the tweet below and leaving me the link. Tweet daily for an extra entry every day!
2 WINNERS for '100 Perfect Pairings: Main Dishes to Enjoy with Wines You Love' Book @WileyCooks @CintiCoupons – http://bit.ly/lnSOaF #giveaway
- If you like Cincinnati Coupons on Facebook, Leave a comment
- Sign up for our Forums Board and create a new topic!
- Blog about this giveaway, with a link to my blog. Come back and leave the link to your blog post
- Subscribe to Cincinnati Coupons by RSS Feed or FREE Email Subscription. You're sure to become addicted to saving money with these daily updates!
This giveaway is open to US Residents until 9:00 pm Eastern on 5/24/2011. The winner will be chosen using the random.org generator. The winner will have 48 hours to respond to my email before a new winner is selected. Good luck and don't forget to leave your email if it is not on your profile. I will contact the winner via email.
Disclosure: I was provided with product for this review. All views and opinions with regard to the products or the company are my own and were not influenced by the company.
Related posts: